Produced by Special Arrangement with Samuel French Australia
By Ivan Menchell
Directed by Anthony Brown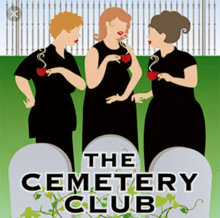 SYNOPSIS:
Three Jewish widows meet once a month for tea before going to visit their husband's graves.
Ida is sweet tempered and ready to begin a new life, Lucille is a feisty embodiment of the girl who just wants to have fun, and Doris is priggish and judgmental, particularly when Sam the butcher enters the scene.
He meets the widows while visiting his wife's grave. Doris and Lucille squash the budding romance between Sam and Ida. They are guilt stricken when this nearly breaks Ida's heart.
This bittersweet comedy is the story of three widows who live in Queens, New York. They are the surviving half of three sets of long-time best friends, each of whom is in a different stage of healing and moving on with her life. Once a month the three women meet to pay their respects to their husbands, who are all buried in the same cemetery. The women are bound together by their hurt, their healing and the discovery that they are more alike than they believed.
​
​
CHARACTERS:
Ida is in the middle of opinions between Lucille and Doris. She recounts how her husband always loved coming home to her home-cooked meals and how she spent the first few months after his death numbly cooking elaborate meals for the husband that would never come home to her again.
​
Lucille appears to quickly have dismissed the loss of her late husband and hungrily searches for a new man. She flaunts the men on her arm with hopes that her philandering late husband sees that she has moved on without him.
​
Doris is content to have loved her husband well and seeks nothing more than simply to go on remembering him. She no doubt would visit the cemetery every day.
​
Sam is a widower who meets Ida during one of the cemetery visits and the two find a connection that is soon torn asunder by Ida's meddling friends who decide she is not ready for this budding relationship.
​
When Mildred, a glamorous and slightly younger widow, accompanies Sam to the wedding of a mutual friend of Ida's, sparks fly. Ida is hurt, and Lucille and Doris confess their interference. After a mild cat fight, complete with drinks thrown in faces, Ida, Lucille and Doris each more intently view their journey as single women.
​
​
PERFORMANCES:
16th & 23rd May at 2pm & 7pm
and will be staged at John Lees Centre,15 Evan Street, Penrith.
​
​
AUDITION DATE:
Saturday, 8th February 2020
at John Lees Centre, Level 1, 15 Evan Street, Penrith
(by appointment only).
​
​
AUDITION DETAILS:
Applicants should note that reading the play prior to their audition would be highly advantageous.
An audition piece will be given to every auditionee.
It is expected that the auditionee will learn the lines of the audition piece and
present it on an agreed date with the director.
We are looking for high standard of performance for each of the roles.
A rehearsal schedule is prepared and will be given on first response to any enquiries made by an auditionee.
It is a clever idea to come to auditions in character, dress/shoes/hair,
anything that you feel is appropriate for the role you are seeking.
An audition piece will be sent out from Anthony once an audition time slot has been sorted.
​
​
For further information or to book an audition time,
​